Research Paper
Home > Publication > Research Paper
AURI releases and shares with the general public the original texts of the research reports it produces based on its basic, provisional, commissioned and joint research projects.
Planning at local level: community housing based on the sharing economy
Byun, Nahyang Associate Research Fellow / Yoon, Zoosun Associate Research Fellow / Park, Seokhwan Assistant Research Fellow
Basic 2018.03.31 Basic 2018-1 6P. Hits : 8
pdf
Download
Cover and Abstract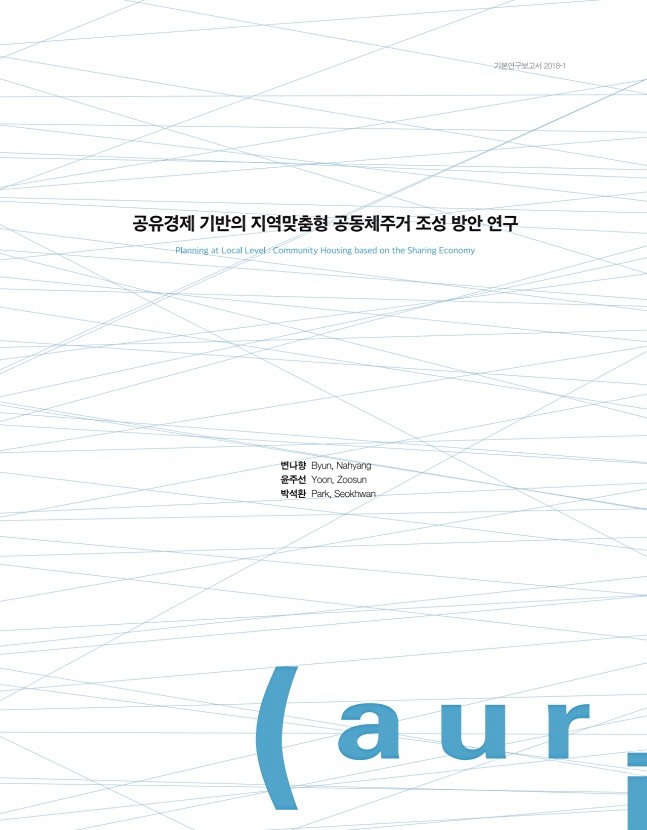 This study has established its research direction and purpose through research questions: ① What does community housing mean, as used in Korea? ② What business projects and laws and systems are available as related to community housing? and ③ What is the current status of community housing (share house) that is sharply increasing lately with the interest in the concept of sharing? To address the institutional limitations that show after the emergence of community housing and through its expansion, this study reviews the concept of community housing and explores a plan to ensure that its creation considers regional circumstances by identifying the current related business projects and
legislations.
The study has the following goals. First, it will present the concept of community housing. Second, it will present a plan to create community housing that takes into consideration regional circumstances and potential users (the youth). Third, it will present a plan to upgrade related systems with the aim of creating and activating quality community housing. The ultimate purpose of the study is to induce the
creation of community housing that focuses on regional characteristics and various social groups through restoring the local community.
Key words
sharing economy, community housing, planning at local level, shared space, share house