Research Paper
Home > Publication > Research Paper
AURI releases and shares with the general public the original texts of the research reports it produces based on its basic, provisional, commissioned and joint research projects.
Delivering more accessible Public Buildings for Inclusive Cities and Neighborhoods : Welfare Centers for the Disabled
Seong, Eunyoung Associate Research Fellow / Lim, Yookyoung Associate Research Fellow / Lee, Kyungjae Assistant Research Fellow
General 2017.12.31 General Research 2017-3 4P. Hits : 6
pdf
Download
Cover and Abstract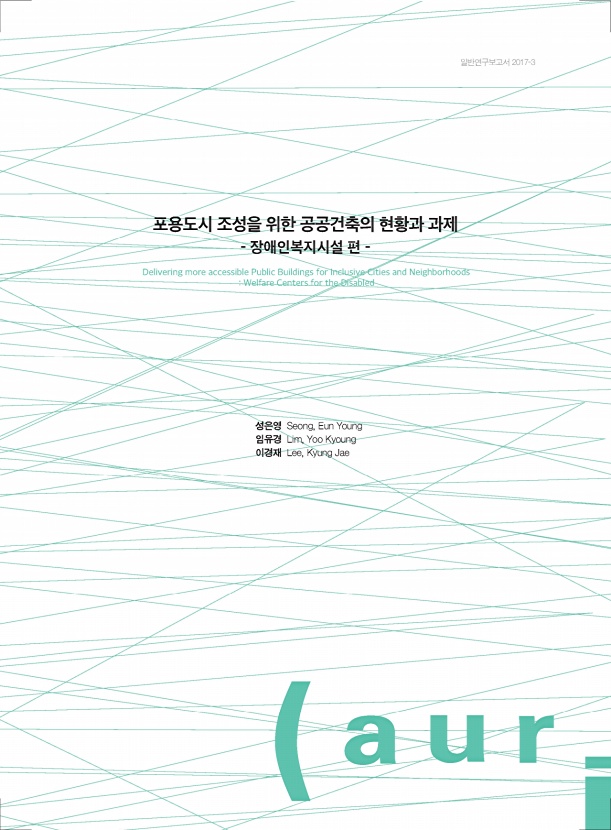 As the argument that social discrimination and exclusion must be overcome to encourage more 'urban inclusivity' is now widely accepted around the world, conversations on the topic of 'inclusive cities' are becoming more vigorous. This issue has made its way to be embraced by both the new Urban Agenda and the Sustainable Development Goals (SDGs) announced at the UN Conference on Housing and Sustainable Urban Development (Habitat III) in October 2016, emphasizing the need for progressing into 'cities for all.' With the social exclusion of vulnerable groups – such as underprivileged people, women, foreigners, and people with disabilities – emerging as a serious problem on urban and national levels, these discussions on urban inclusivity will help resolve such social problems and provide a solid foundation from which the society can advance into a more stable, mature one.
Key words
Public Buildings, Accessibility, Inclusive Cities, Welfare Center for the Disabled