Research Paper
Home > Publication > Research Paper
AURI releases and shares with the general public the original texts of the research reports it produces based on its basic, provisional, commissioned and joint research projects.
Improving the Effectiveness of Support Systems for Hanok Roof Repair
Jin, Teseung Assistant Research Fellow / Kim, Danbi Assistant Research Fellow / Kim, Haeri Associate Research Fellow
General 2017.12.31 General 2017-7 4P. Hits : 8
pdf
Download
Cover and Abstract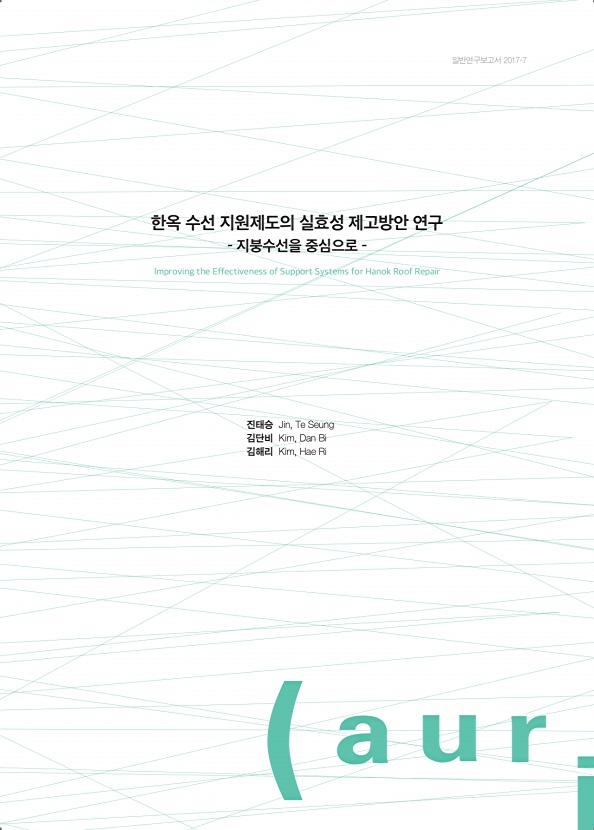 Most of the remaining hanok have been built for more than 30 years. Most of the hanok, which have not been completely renovated, are continuously getting old. When examining the results of the pilot check on old hanok, the defects of the roof and tile are frequent compared to other parts, and there is a lot of demand for repair. In case of neglecting the defects of the Hanok roof, the collapse of the roof itself can not guarantee the safety of the residents and leads to defects in the lower neck structure, so that the management of the roof in the hanok is more important than any other area. The purpose of this study is to examine the alternative permissible materials and construction methods which are being
developed relatively cheaply in addition to the existing Korean style kitchens in order to promote the repair of the roofs of old Korean houses which have been neglected. To do this, we investigate alternative examples of repairing hanok roofs, cost and construction methods for various alternative materials, and investigate the experts' perceptions of them.
Key words
Hanok, Hanok Roof, Repair