Research Paper
Home > Publication > Research Paper
AURI releases and shares with the general public the original texts of the research reports it produces based on its basic, provisional, commissioned and joint research projects.
Support Policies for Improving Architectural Administration Services
Lee, Yeokyung Associate Research Fellow / Lee, Sangmin Research Fellow / Tchah, Chuyoung Research Fellow
Basic 2017.10.31 Basic Research 2017-3 16P. Hits : 5
pdf
Download
Cover and Abstract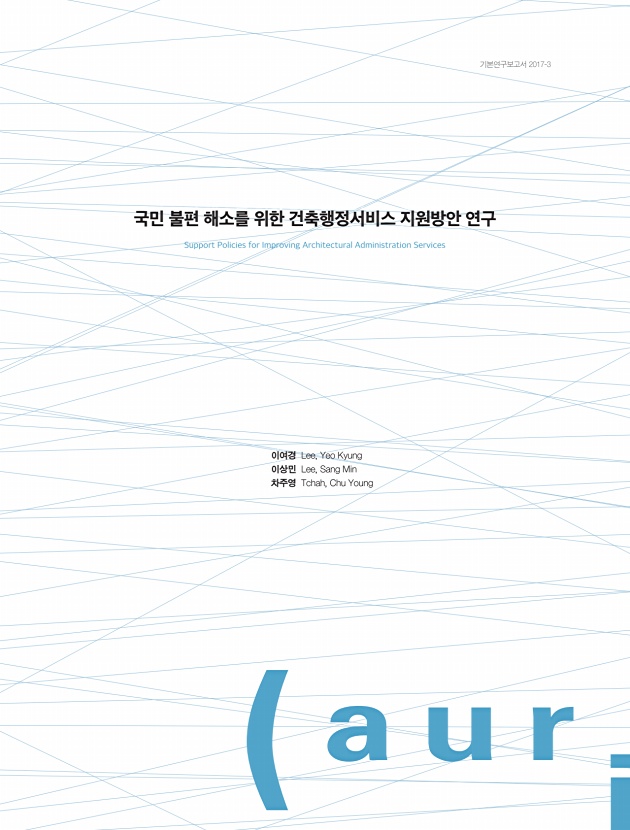 The central and local governments of Korea have been deregulating and improving building regulations for the purpose of easing related inconveniences for the public. Despite such efforts, however, complaints have been increased by the entities involved such as building project owners, developers, registered architects, and even the general public. The primary complaints from the public with respect to architectural administration services arise from the process of operation such as responses to questions regarding the legal system, prior disclosure of the related procedures and standards, and perfunctory administrative processing. In order words, this study was initiated from the recognition that
public complaints and inconveniences are rooted in the low-quality administrative services provided during the process of operating architectural administration, rather than the building regulations themselves.
Key words
User-oriented, Architectural administration service, Information and consultation services, Transparency of procedures, Increase of manpower, Improvement of the operation of a architectural administrative organization