Research Paper
Home > Publication > Research Paper
AURI releases and shares with the general public the original texts of the research reports it produces based on its basic, provisional, commissioned and joint research projects.
Street Revitalization based on Tactical Urbanism
Son, Dongpil Research Fellow / Ko, Youngho Associate Research Fellow / Yoon, Zoosun Associate Research Fellow
Basic 2017.10.31 Basic Research 2017-9 8P. Hits : 11
pdf
Download
Cover and Abstract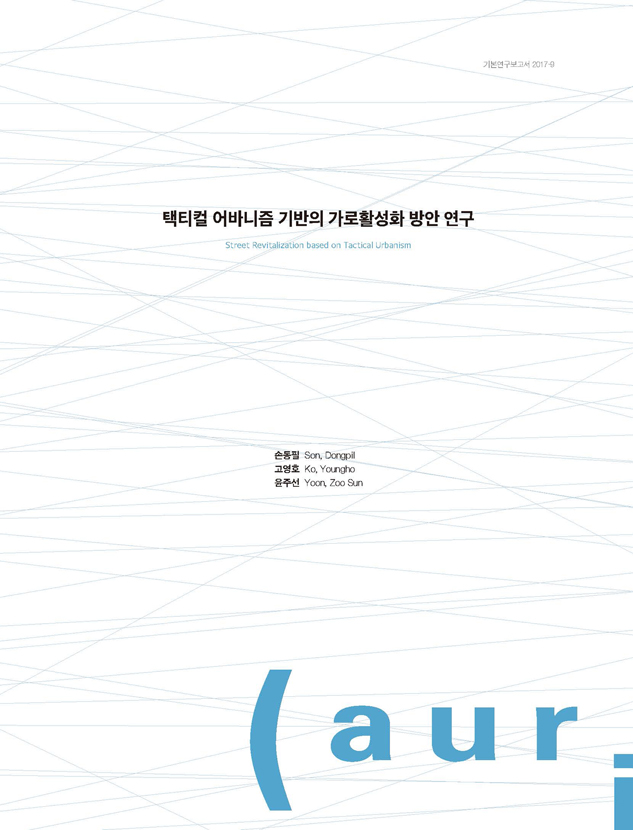 Generally speaking, the Street-based Urbanism understands a street as space where roads, public spaces, and surrounding buildings are integrated. The Street-based Urbanism, then, appreciates a street space as a constituent unit for urban planning and design. Considering the Street-based Urbanism, the global trend of urban design emphasizes the importance of street revitalization in the plans for urban regeneration and livable city making. The political trend for street revitalization also transfers political focuses from vehicle oriented streets to pedestrian oriented environments.
Changes of street spaces and environments induce flexible utilization of the street space, considering above political trend for street revitalization. General urban development and design are less likely to respond to these changes and movements of street spaces and environments due to their rigid and irreversible designing characteristics. Concerning this irreversible and irresponsive limitations of general urban development and design system, urban planning and design provide various suggestions and proposals.
Key words
Tactical Urbanism, street revitalization, street environment improvement, public space, public offering,strategically phased approach