Research Paper
Home > Publication > Research Paper
AURI releases and shares with the general public the original texts of the research reports it produces based on its basic, provisional, commissioned and joint research projects.
The Experiential Implications for the Foundation Phase of Urban Regeneration Projects
Park, Sungnam Associate Research Fellow / Kim, Minkyung Assistant Research Fellow
General 2016.12.31 AURI-마을재생-2016-1 4P. Hits : 21
pdf
Download
Cover and Abstract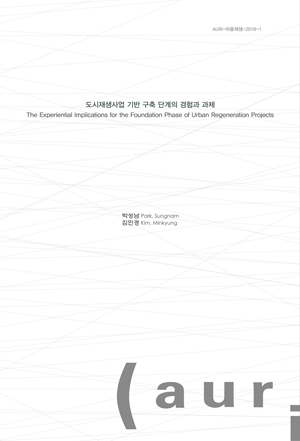 The purpose of this study is to identify the limitations in the process of the project to induce settlement and proliferation of the urban regeneration project started in 2014 and to suggest the improvement plan accordingly. In particular, the foundation phase which has been emphasized in this study, is an indispensable part of urban regeneration projects based on cooperation and partnership among various participants. This year, the leading area that has been promoted since 2014 has entered its third year, and the newly selected urban regeneration areas in 2016 have accumulated difficulties and improvement plans as the base construction progressed this year. Therefore, policy implications are needed Time.