Research Paper
Home > Publication > Research Paper
AURI releases and shares with the general public the original texts of the research reports it produces based on its basic, provisional, commissioned and joint research projects.
A Study on the Concept and Types of Public Buildings: Focusing on the Review of Current Public Building Regulations
Lee, Geauchul Associate Research Fellow / Lim, Yookyoung Associate Research Fellow / Kim, Hyeryeon Assistant Research Fellow / Lee, Sang A Assistant Research Fellow
General 2016.12.31 AURI-공공건축-2016-2 3P. Hits : 17
pdf
Download
Cover and Abstract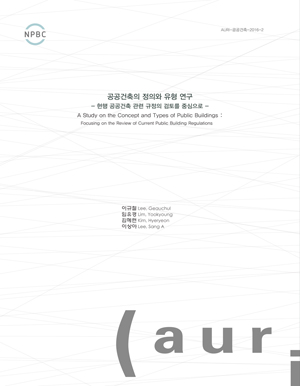 This study was designed by the necessity of establishing norms of public buildings in order to effectively implement policies and systems of the public building. For this, the purpose of this study is to identify the contents of the public building system in current regulations and to suggest alternatives of the concept and types of public buildings. The current regulations defines the concept of public buildings as an efficient management of public properties and publicness such as public interest. Based on these legal provisions, we propose an alternative to the concept of public buildings by gradually expanding it according to the range of public values and building objects. In addition, we proposed new types of public buildings by classifying it into types according to use and public value. The new types of public buildings proposed in this study is meaningful in that it is a type based on the concept of public buildings unlike the usage type of the current Building Codes. This typology can contribute to the identification of public buildings in terms of publicness because it can classify buildings according to the level of public value.