Research Paper
Home > Publication > Research Paper
AURI releases and shares with the general public the original texts of the research reports it produces based on its basic, provisional, commissioned and joint research projects.
'Preliminary Review of Public Building Projects' : Achievements and Future Tasks
National Public Building Center
General 2016.12.31 AURI-공공건축-2016-1 3P. Hits : 21
pdf
Download
Cover and Abstract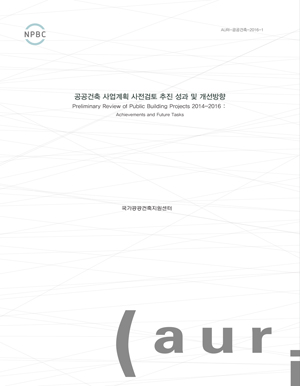 In 2013, 『Architectural Service Promotion Act』 was enacted to stipulate the establishment of the 'public building center'. In 2014, the National Public Building Center(NPBC) was inaugurated and was designated as 'public building center' by the ministry of Land, Infrastructure & Transport in accordance with the act. The NPBC has been established to assist the public sector in architecture related works and to develop national policies on public buildings.
Missions of NPBC consist of services and research works. Services are; preliminary review of public building project, professional advice on public building planning, design and management, training public sector staffs involved in public building projects, building and managing public building database.