Research Paper
Home > Publication > Research Paper
AURI releases and shares with the general public the original texts of the research reports it produces based on its basic, provisional, commissioned and joint research projects.
Research on the improvement of remuneration standards related to building construction supervision of building safety
Youm, Chirlho Research Fellow / Yoon, Zoosun Associate Research Fellow / Kim, Hyojeong Assistant Research Fellow
General 2016.12.31 AURI-건축서비스-2016-2 4P. Hits : 15
pdf
Download
Cover and Abstract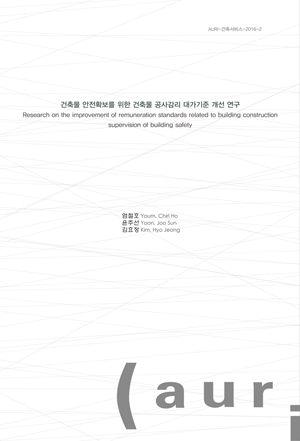 With the frequent occurrences of building safety accidents in recent years, the social demands for performances and fortification of responsibilities for the building safety have been increasing. In particular, low remuneration paid for the supervision works was pointed out as a key cause of the threat to building safety.
Accordingly, the government presented policies for securing the building safety through the establishment of comprehensive measures to fortify building safety, and by fortifying the works for and responsibilities for construction supervision works including expansion of the range of supervision works. Moreover, the responsibilities and workload of supervision increased in accordance with the fortification of the construction supervision system for the purpose of securing building safety performances.