Research Paper
Home > Publication > Research Paper
AURI releases and shares with the general public the original texts of the research reports it produces based on its basic, provisional, commissioned and joint research projects.
Future Directions for Pedestrian Environment in Multi-functional Administrative City, Korea
Kim, Seungnam Associate Research Fellow / Oh, Sunghoon Research Fellow / Park, Sungnam Associate Research Fellow
Provisional 2016.12.31 AURI-Provisional-2016-10 3P. Hits : 16
pdf
Download
Cover and Abstract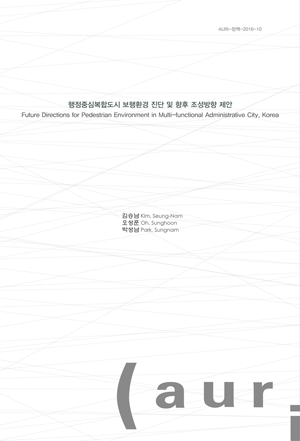 The Multi-functional Administrative City (MA City) construction plan has been receiving great attention as a large-scale new development project led by the national government in Korea. In particular, The MA City was planned with a big emphasis on the construction of transit-oriented urban transportation networks and pedestrian accesses to them. Therefore, the role of the walking environment is important for realizing the planning concepts of the MA City. Against this backdrop, this study aims to diagnose the walking environment of the completed areas and to propose future directions for the rest areas.