Research Paper
Home > Publication > Research Paper
AURI releases and shares with the general public the original texts of the research reports it produces based on its basic, provisional, commissioned and joint research projects.
An Evaluation System for Street Environment using Image Information: Focused on the application of 360° Videos and Virtual Reality Devices
Kim, Seungnam Associate Research Fellow / Lim, Youkyung Associate Research Fellow / Park, Sungnam Associate Research Fellow
Basic 2016.12.31 AURI-Basic-2016-17 2P. Hits : 20
pdf
Download
Cover and Abstract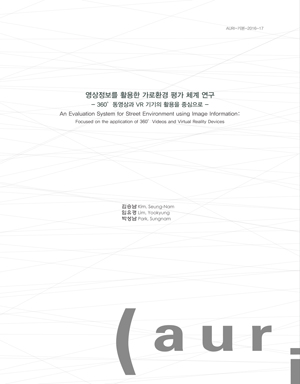 This study aims to develop a new evaluation system for street environment using image information as an alternative way of field observation. To do this, we conducted pilot evaluations using three different types: (1) field observation-based, virtual streetscape (Daum Road View)-based, and 360-dgree VR video-based evaluation systems. Ten experts were fully participated in these pilot evaluations, and they are interviewed and surveyed several times. We applied diverse quantitative and qualitative analysis techniques to compare those different methods. Main findings are as follows. First, VR-based evaluation results are much closer to the field observation-based, compared to virtual streetscape-based. Second, when many evaluators evaluate many streets at the same time, VR-based evaluation can be much cheaper and easier way of street evaluation. If 360-dgree video recorder and VR device technologies are developed more, it is expected to be frequently used in evaluating neighborhood and street environments in the field of urban design.