Auri Research Brief
Home > Publication > Regular Publications > Auri Research Brief
The AURI Research Brief is a revised edition of the AURI Brief. The AURI Research Brief is published bi - weekly and presents based on the AURI research outcomes policy suggestions in response to current policy issues at home and abroad.
Value Criteria of Modern Buildings for Preservation and Utilization
Lee, Geauchul Associate Research Fellow / Lee, Minkyoung Associate Research Fellow
No.38 2018.06.28 Hits : 10
pdf
Download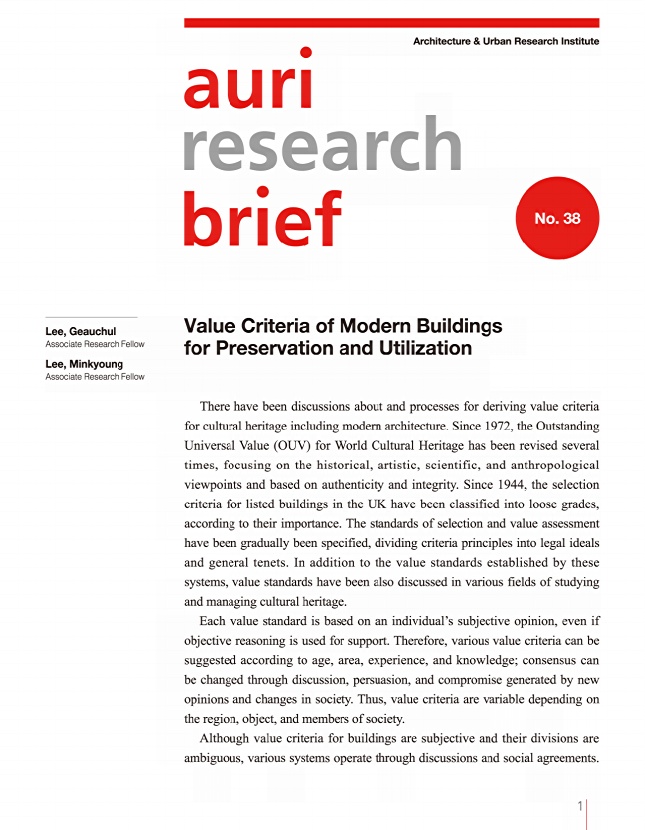 Summary
There have been discussions about and processes for deriving value criteria for cultural heritage including modern architecture. Since 1972, the Outstanding Universal Value (OUV) for World Cultural Heritage has been revised several times, focusing on the historical, artistic, scientific, and anthropological viewpoints and based on authenticity and integrity. Since 1944, the selection criteria for listed buildings in the UK have been classified into loose grades, according to their importance. The standards of selection and value assessment have been gradually been specified, dividing criteria principles into legal ideals and general tenets. In addition to the value standards established by these systems, value standards have been also discussed in various fields of studying and managing cultural heritage.
Each value standard is based on an individual's subjective opinion, even if objective reasoning is used for support. Therefore, various value criteria can be suggested according to age, area, experience, and knowledge; consensus can be changed through discussion, persuasion, and compromise generated by new opinions and changes in society. Thus, value criteria are variable depending on the region, object, and members of society.
Key words
Value Criteria, Value Element, Value Assessment, Modern Building, Architectural Asset, Registered Cultural Property, Architectural Heritage