Auri Research Brief
Home > Publication > Regular Publications > Auri Research Brief
The AURI Research Brief is a revised edition of the AURI Brief. The AURI Research Brief is published bi - weekly and presents based on the AURI research outcomes policy suggestions in response to current policy issues at home and abroad.
A Study of Crime Prevention Design Performance for the Built Environment
Cho, Youngjin Associate Research Fellow / Kim, Yonggook Associate Research Fellow
No.28 2017.11.20 Hits : 16
pdf
Download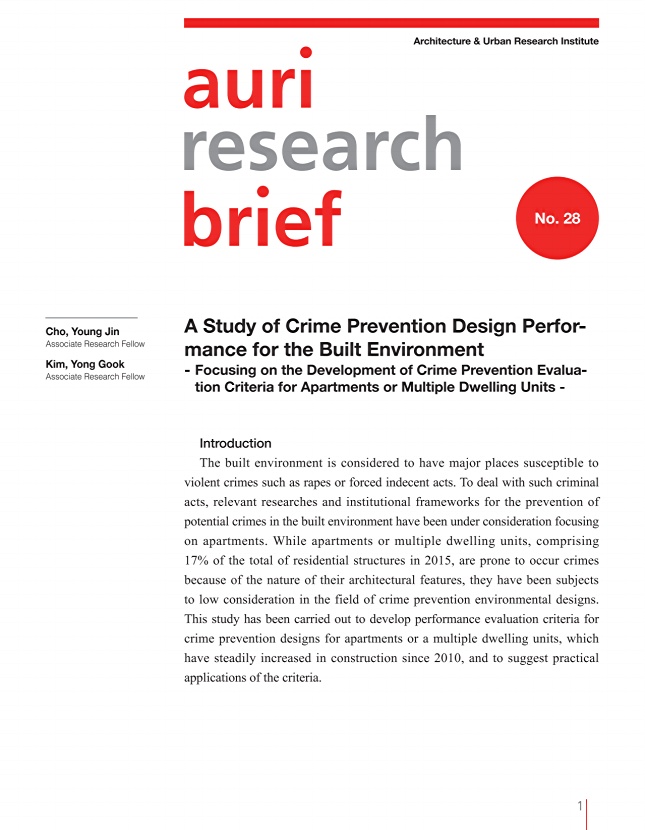 Summary
The built environment is considered to have major places susceptible to violent crimes such as rapes or forced indecent acts. To deal with such criminal acts, relevant researches and institutional frameworks for the prevention of potential crimes in the built environment have been under consideration focusing on apartments. While apartments or multiple dwelling units, comprising 17% of the total of residential structures in 2015, are prone to occur crimes because of the nature of their architectural features, they have been subjects to low consideration in the field of crime prevention environmental designs.
This study has been carried out to develop performance evaluation criteria for crime prevention designs for apartments or a multiple dwelling units, which have steadily increased in construction since 2010, and to suggest practical applications of the criteria.