Auri Research Brief
Home > Publication > Regular Publications > Auri Research Brief
The AURI Research Brief is a revised edition of the AURI Brief. The AURI Research Brief is published bi - weekly and presents based on the AURI research outcomes policy suggestions in response to current policy issues at home and abroad.
Support Policies for Improving the Effectiveness of Landscape Agreements
Lee, Yeokyung Associate Research Fellow / Sim, Kyungmi Research Fellow
No.22 2017.08.01 Hits : 12
pdf
Download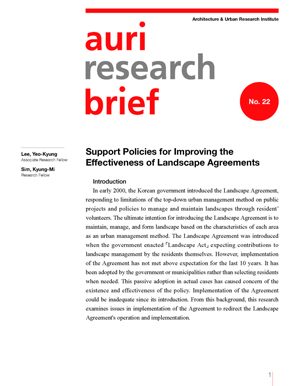 Summary
In early 2000, the Korean government introduced the Landscape Agreement, responding to limitations of the top-down urban management method on public projects and policies to manage and maintain landscapes through resident' volunteers. The ultimate intention for introducing the Landscape Agreement is to maintain, manage, and form landscape based on the characteristics of each area as an urban management method. The Landscape Agreement was introduced when the government enacted 「Landscape Act」 expecting contributions to landscape management by the residents themselves. However, implementation of the Agreement has not met above expectation for the last 10 years. It has been adopted by the government or municipalities rather than selecting residents when needed. This passive adoption in actual cases has caused concern of the existence and effectiveness of the policy. Implementation of the Agreement could be inadequate since its introduction. From this background, this research examines issues in implementation of the Agreement to redirect the Landscape Agreement's operation and implementation.
Key words
Landscape Agreement, Utilization, Support Policies