Auri Research Brief
Home > Publication > Regular Publications > Auri Research Brief
The AURI Research Brief is a revised edition of the AURI Brief. The AURI Research Brief is published bi - weekly and presents based on the AURI research outcomes policy suggestions in response to current policy issues at home and abroad.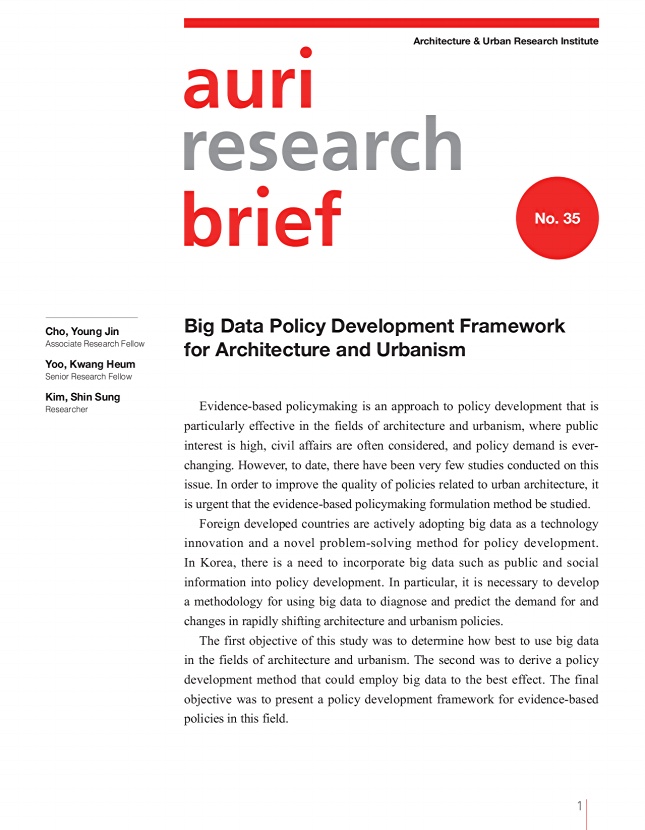 No.352018.04.06
Big Data Policy Development Framework for Architecture and Urbanism
Evidence-based policymaking is an approach to policy development that is particularly effective in the fields of architecture and urbanism, where public interest is high, civil affairs are often considered, and policy demand is everchanging. However, to date, there have been very few studies conducted on this
issue. In order to improve the quality of policies related to urban architecture, it is urgent that the evidence-based policymaking formulation method be studied.
Foreign developed countries are actively adopting big data as a technology innovation and a novel problem-solving method for policy development. In Korea, there is a need to incorporate big data such as public and social information into policy development. In particular, it is necessary to develop
a methodology for using big data to diagnose and predict the demand for and changes in rapidly shifting architecture and urbanism policies.
The first objective of this study was to determine how best to use big data in the fields of architecture and urbanism. The second was to derive a policy development method that could employ big data to the best effect. The final objective was to present a policy development framework for evidence-based
policies in this field.
Download
Total There are 35 items.

1
2