Auri Brief
Home > Publication > Regular Publications >Auri Research Brief > Auri Brief
The AURI Brief was published bi-weekly from 2013 to 2014 and based on the AURI research outcomes policy suggestions in response to current policy issues at home and abroad.
Improving Building-related Landscape Systems to Create Green Infrastructure
Kim, Yonggook Associate Research Fellow / Lee, Sangmin Research Fellow
No.37 2018.05.30 Hits : 13
pdf
Download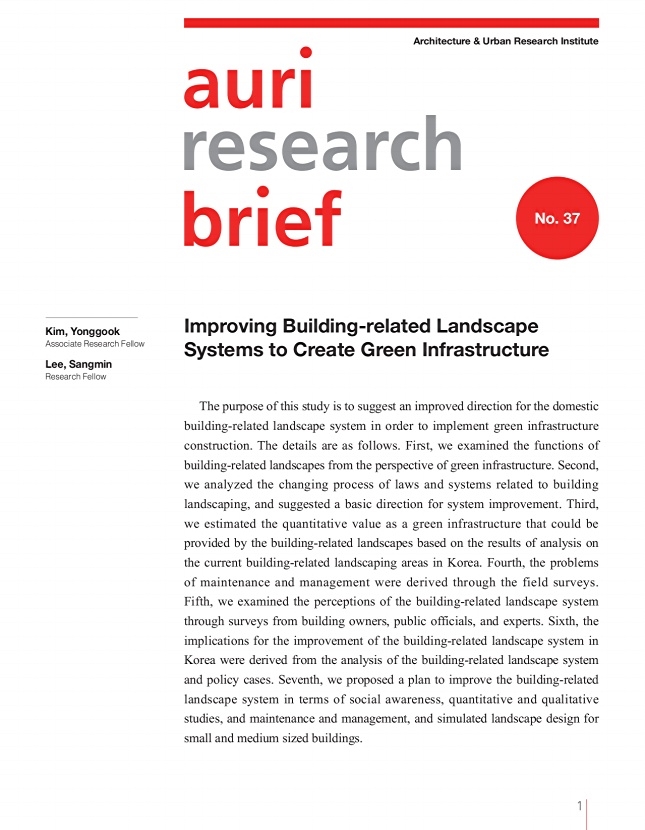 Summary
The purpose of this study is to suggest an improved direction for the domestic building-related landscape system in order to implement green infrastructure construction. The details are as follows. First, we examined the functions of building-related landscapes from the perspective of green infrastructure. Second, we analyzed the changing process of laws and systems related to building landscaping, and suggested a basic direction for system improvement. Third, we estimated the quantitative value as a green infrastructure that could be provided by the building-related landscapes based on the results of analysis on the current building-related landscaping areas in Korea. Fourth, the problems of maintenance and management were derived through the field surveys. Fifth, we examined the perceptions of the building-related landscape system through surveys from building owners, public officials, and experts. Sixth, the implications for the improvement of the building-related landscape system in Korea were derived from the analysis of the building-related landscape system and policy cases. Seventh, we proposed a plan to improve the building-related landscape system in terms of social awareness, quantitative and qualitative studies, and maintenance and management, and simulated landscape design for small and medium sized buildings.
Key words
Building-related Landscape, Green Infrastructure, Urban Green Space, Landscape Area, Landscape Space