Auri Brief
Home > Publication > Regular Publications >Auri Research Brief > Auri Brief
The AURI Brief was published bi-weekly from 2013 to 2014 and based on the AURI research outcomes policy suggestions in response to current policy issues at home and abroad.
Implications of Introducing and its Applying the Community Land Trust System in Korea
Park, Sungnam Associate Research Fellow / Lee, Eunseok Associate Research Fellow
No.33 2018.02.26 Hits : 4
pdf
Download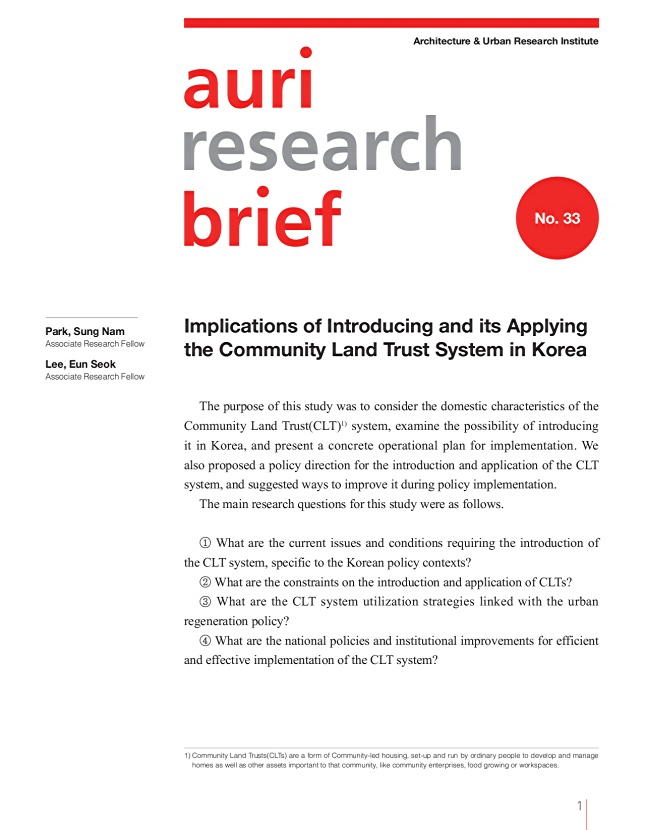 Summary
The purpose of this study was to consider the domestic characteristics of the Community Land Trust(CLT)1) system, examine the possibility of introducing it in Korea, and present a concrete operational plan for implementation. We also proposed a policy direction for the introduction and application of the CLT system, and suggested ways to improve it during policy implementation.
The main research questions for this study were as follows.


① What are the current issues and conditions requiring the introduction of the CLT system, specific to the Korean policy contexts?
② What are the constraints on the introduction and application of CLTs?
③ What are the CLT system utilization strategies linked with the urban regeneration policy?
④ What are the national policies and institutional improvements for efficient and effective implementation of the CLT system?
Key words
Community Land Trust, Gentrification, Neighbourhood Management, Affordable Housing