Auri Brief
Home > Publication > Regular Publications >Auri Research Brief > Auri Brief
The AURI Brief was published bi-weekly from 2013 to 2014 and based on the AURI research outcomes policy suggestions in response to current policy issues at home and abroad.
Policy Proposals for the Quality Improvement and the Revitalization of Small Housing Constructions
Seong, Eunyoung Associate Research Fellow / Oh, Sunghoon Senior Research Fellow
No.30 2017.12.26 Hits : 17
pdf
Download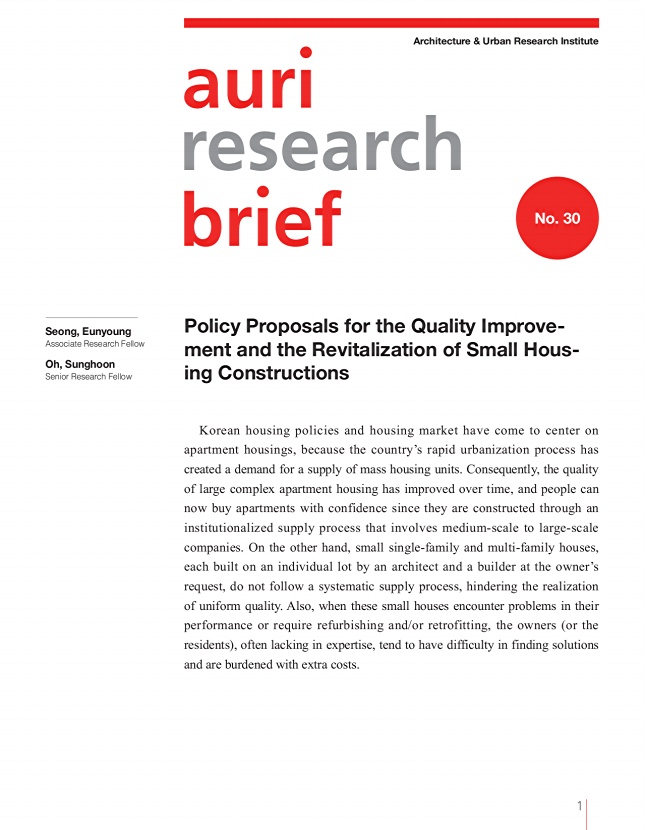 Summary
Korean housing policies and housing market have come to center on apartment housings, because the country's rapid urbanization process has created a demand for a supply of mass housing units. Consequently, the quality of large complex apartment housing has improved over time, and people can now buy apartments with confidence since they are constructed through an institutionalized supply process that involves medium-scale to large-scale companies. On the other hand, small single-family and multi-family houses, each built on an individual lot by an architect and a builder at the owner's request, do not follow a systematic supply process, hindering the realization of uniform quality. Also, when these small houses encounter problems in their performance or require refurbishing and/or retrofitting, the owners (or the residents), often lacking in expertise, tend to have difficulty in finding solutions and are burdened with extra costs.
Key words
Policy Proposals, Quality Improvement, Small Housing Constructions