Auri Brief
Home > Publication > Regular Publications >Auri Research Brief > Auri Brief
The AURI Brief was published bi-weekly from 2013 to 2014 and based on the AURI research outcomes policy suggestions in response to current policy issues at home and abroad.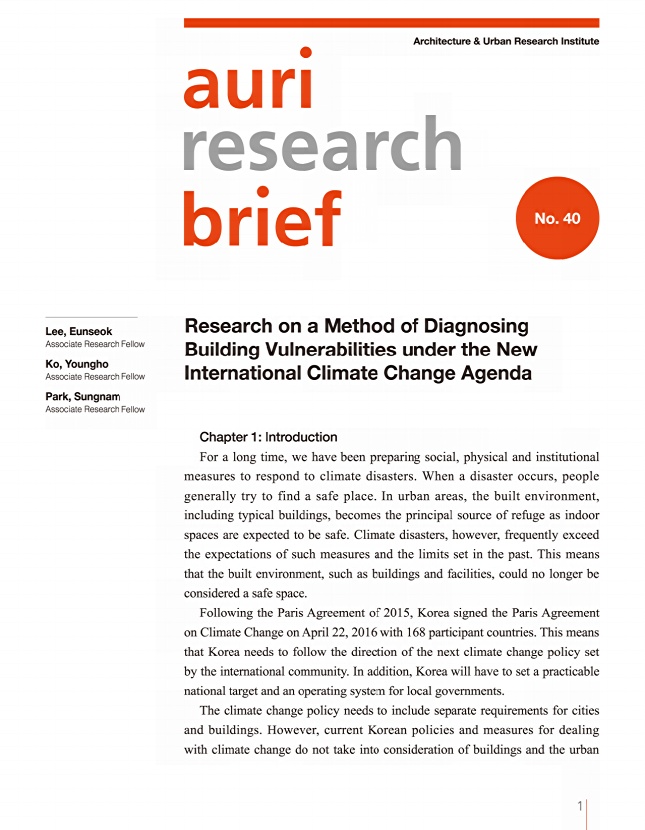 No.402018.09.07
Research on a Method of Diagnosing Building Vulnerabilities under the New International Climate Change Agenda
For a long time, we have been preparing social, physical and institutional measures to respond to climate disasters. When a disaster occurs, people generally try to find a safe place. In urban areas, the built environment, including typical buildings, becomes the principal source of refuge as indoor spaces are expected to be safe. Climate disasters, however, frequently exceed the expectations of such measures and the limits set in the past. This means that the built environment, such as buildings and facilities, could no longer be considered a safe space.
Following the Paris Agreement of 2015, Korea signed the Paris Agreement on Climate Change on April 22, 2016 with 168 participant countries. This means that Korea needs to follow the direction of the next climate change policy set by the international community. In addition, Korea will have to set a practicable national target and an operating system for local governments.
Download
Total There are 40 items.

1
2